Each day of this back-to-school week, RFA's David Lapp highlighted issues in Pennsylvania education policy that he'll be following closely in the coming year. Click below to read each day:
Day 3. – Teacher workforce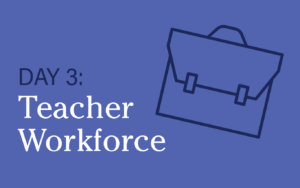 Within schools the quality of the teacher workforce is the most important factor on student achievement. While the average pay gap between teachers and comparable professions is smaller in Pennsylvania than in most states, there are wide disparities across the state, with high pay in high-wealth districts and low pay in low-wealth districts. In a 2018 study, the Philadelphia Education Research Consortium (PERC) documented substantial levels of teacher turnover in Philadelphia—where teachers already are paid less to teach under more challenging circumstances than nearly all of their neighboring school districts, leading to existing shortages and equities in how quality teachers are distributed. An upcoming Allegheny County Education Research (ACER) brief explores teacher mobility in Pittsburgh and Allegheny County, finding students facing wide disparities across county schools and particularly high teacher mobility in charter schools. Meanwhile, the stress of Covid and the culture wars on schools are taking a toll on teachers with some predicting major teacher shortages across the nation.  
Teacher shortages and high mobility rates are already a reality for early childcare and education providers—some of the most important educators in our entire school system. These providers have long been Budgeting for Survival and, as explained by RFA's Rachel Comly, often cannot pay a living wage. The staffing shortage for childcare is keeping families out of the workforce and the sector is in desperate need for additional intervention, such as the American Families Plan. 
One weakness of Pennsylvania's overall teacher workforce is its lack of diversity. As RFA found, Pennsylvania has one of the starkest disparities in the nation, with 36% students of color compared to just 6% teachers of color. Over 1,000 Pennsylvania schools have only employed White teachers over at least the past seven school years. Even in Philadelphia, which employs the majority of Pennsylvania's Black teachers, the number and percentage of Black teachers has declined over the past two decades with the same phenomenon happening in Pittsburgh and Allegheny County.  
Note: Figure based on data from Chalkbeat Philadelphia and RFA 
Policy recommendations and toolkits from members of the Pennsylvania Educator Diversity Consortium provide policymakers a helpful roadmap to improving recruitment and retention. And the growing impact of the Center for Black Educators Development, driving modest increases in the number of Black male teachers in recent years, and a comprehensive pipeline initiative piloted by the Pennsylvania Department of Education called Aspiring to Educate demonstrate that this is a problem with ready solutions to patch the leaky teacher pipeline.