Each day of this back-to-school week, RFA's David Lapp highlighted issues in Pennsylvania education policy that he'll be following closely in the coming year. Click below to read each day:
Back-to-school for Pennsylvania students—many to in-person learning for the first time in one and a half years—provides a moment to take stock of issues that are expected to drive prek-12 education policy discussions during the 2021-22 school year.
Of course, the most pressing issue—one that is all-consuming for families, students, and staff working inside school buildings—is whether schools can safely operate in person while mitigating the spread of COVID-19. As documented in Where Do We Go Next?, a joint report from RFA and GradNation, the pandemic's upheaval on public education has taken a heavy toll on students. Successful return is key to support student learning.
But the task is daunting, especially if states and school systems fail to take even the most basic recommended precautions, such as universal indoor masking, mandating vaccines for all teachers and staff (with student vaccine mandates possibly coming soon, already issued in Los Angeles), regular asymptomatic testing, high quality ventilation indoors, and maximizing use of outdoor space, especially during lunch.
After an unsuccessful effort to get the PA General Assembly to act, Governor Wolf issued a statewide mask mandate for schools by order of the Department of Health. While mandates have been banned in some states (an action that may be illegal under federal law), Governor Wolf's leadership may relieve some school board members who have faced threats of violence for implementing local mask mandates in efforts to keep students and the community safe.  Even if it does contain a loophole.
Yet as Covid-19 continues to dominate education policy conversations, many other pressing issues will impact students. Each day this week I'll highlight one of the issues in Pennsylvania education policy that I'll be following closely this year, with some editorializing for good measure.  Let's get started!
Day 1. School Facilities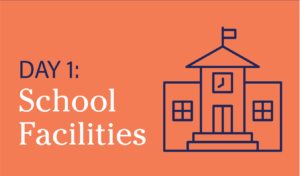 Unfortunately, risks to student health and safety are not limited to COVID. A new national report documents the dismal state of school infrastructure across the country and a recent report by Women for a Healthy Environment identified serious environmental hazards from aging infrastructure across Pennsylvania school districts. Low wealth Pennsylvania communities operate hundreds of schools built prior to the 1950s. School openings for several schools in Philadelphia have been complicated by these concerns.
A major influx of federal funding could have been used to ameliorate these issues, but Pennsylvania instead extended a moratorium on new applications to PlanCon, the state's established approach to reimbursing school districts for school construction expenditures. Last year in State Funding to Ensure Safe and Healthy Facilities: Lessons for Pennsylvania, RFA found that recent amendments to PlanCon have put the program in line with emergency facilities funding systems in neighboring states, at least in theory.
The point of improving PlanCon, was for school leaders to actually use it to improve school facilities. So long as the moratorium continues, that can't happen and students in our least wealthy districts will continue to attend the most outdated and too often unsafe school facilities.