 Pennsylvania Educator Diversity Research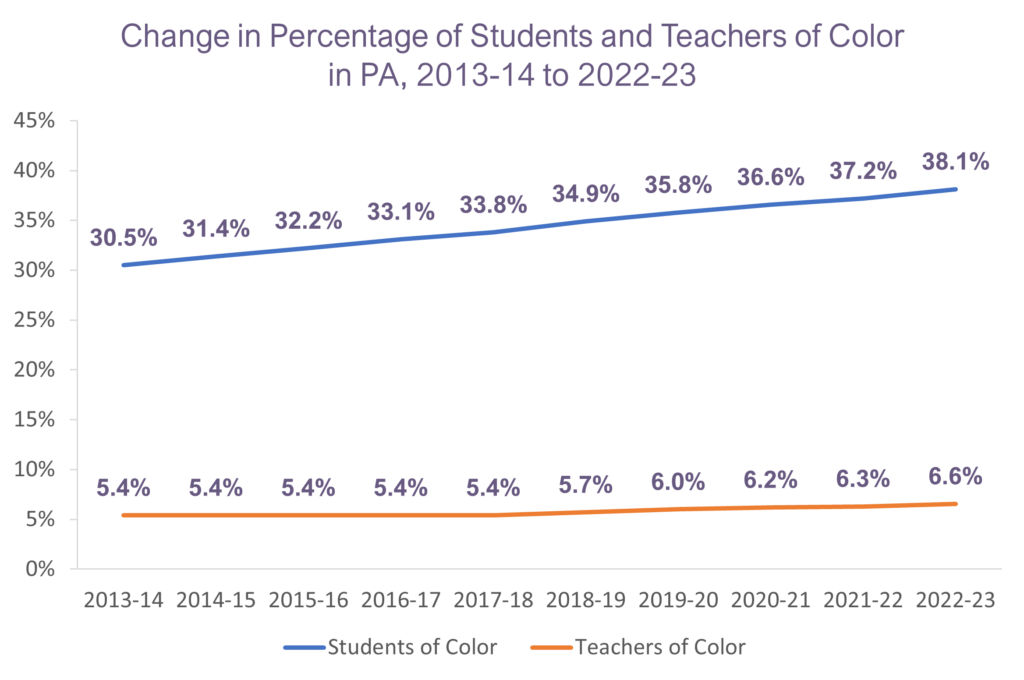 This page provides a central repository of RFA's recent research related to educator diversity in Pennsylvania's public schools, including links to download the most current teacher diversity data cleaned and published by RFA.
With an influential 2018 report entitled Patching the Leaky Pipeline: Recruiting and Retaining Teachers of Color in Pennsylvania, RFA brought a renewed focus on the importance of teacher diversity by examining available data and reviewing promising policy initiative at the local, state, and federal levels for increasing diversity all along the pipeline. One takeaway from that work was that, while education agencies regularly publish detailed data on student demographics, data on teacher demographics is much less readily available.
To fill that information gap, RFA began to annually request and clean records from the Pennsylvania Department of Education and merge these with public student data to calculate the percentages of teachers and students by race/ethnicity and gender at the state, county, district, and school levels for all Pennsylvania public schools. These files of Teacher and Student Demographic Data are available for download here:
The links below provide easy access to the project pages for RFA's recent research related to Pennsylvania's educator diversity:
RFA wishes to express gratitude to the funders whose generous support has made and continues to make possible this important educator diversity research.